Kulebloggen #1
Kulebloggen #1

Vi fikk tilsendt en pcap, kan du bistå i å avdekke hendelsesforløpet? Først, hvilken typen NMAP scan har angriper gjort? Angi flagget som UIACTF{}, for eksempel: UIACTF{-sU} for UDP scan

File: kulebloggen.pcap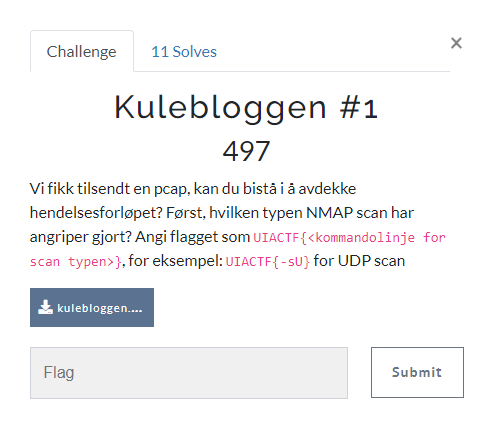 ---
Vi åpner kulebloggen.pcap i Wireshark:

Vi ser at det er gjort en port scan mot 192.168.56.111. Vi skal finne ut hvilken scan som er gjort.
Skanneteknikkene i nmap er beskrevet her: https://nmap.org/book/man-port-scanning-techniques.html
Xmas scan (-sX)

Sets the FIN, PSH, and URG flags, lighting the packet up like a Christmas tree.
Vi ser at Xmas scan (-sX) matcher med flaggene TCP-flaggene som er satt i pakkene i Wireshark.
Flagg
Flagget blir da:
UIACTF{-sX}